Walk The Mile
Florence
Footwear designer Marion Parke takes us to her favorite city for shopping, sightseeing, and . . . creating gorgeous shoes. (Yes.)
Who better to trust to design a comfortable pair of heels than a podiatric surgeon? But wait. No one said comfortable equals chic. Now add impeccable design, and you have Marion Parke's premiere shoe collection. The foot-specialist-turned-designer has developed a breakthrough footbed that follows the natural contour and curvature of the bottom of the foot, all of which she's paired with gorgeous silhouettes. She produces them in an equally beautiful location: Italy.
The shoe designer first visited Florence when she was a surgical resident working with an Italian foot and ankle surgeon in Tuscany. "She encouraged me to take some time away from the operating room," she explains. "I was a very dedicated resident! I didn't know at the time I'd be returning to produce my own collection, so it's especially meaningful."
Marion has traveled to the area four times in a 10-month period. "My last visit was in January, when I was in the first trimester of my second pregnancy," she says. "Now that I am nine months pregnant, our production team (below, left) has made miracles happen via FaceTime and DHL." Find out what Parke loves about the city and how to perfect a Florence uniform.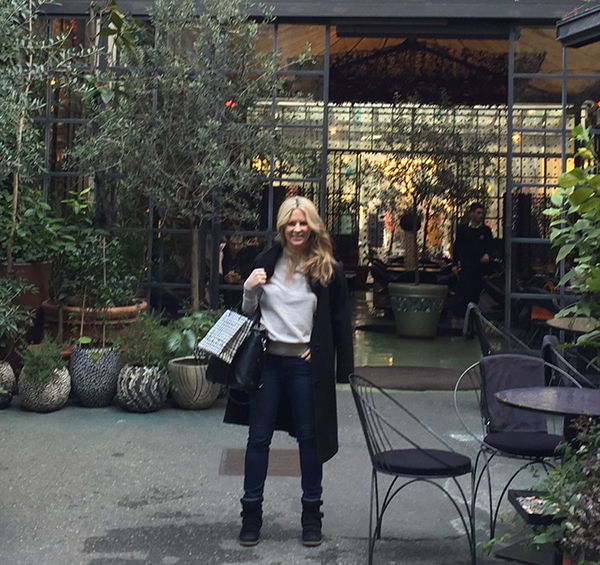 I usually take my: My very supportive sister, who has accompanied me on about half of my trips, which has been such a blessing. She has fantastic taste and gives great feedback on details and sourcing decisions. When she is unavailable, I travel by myself. However, I'm rarely alone. The head of our production team and his wife frequently host me for traditional homemade Tuscan meals and we spend most of our days with the team in the factories discussing the collection, checking on production and troubleshooting any technical problems that may arise.
The first thing I do when I arrive: I typically arrive early in the morning on Mondays and I like to go straight to work and then sleep hard that night. I've found that strategy helps to adjust to the time difference rather quickly.

My Florence uniform consists of: Jeans, a light jacket and shoes from the collection. I love Equipment blouses and have found J Brand jeans to be a good fit for me. When you're in and out of factories, no one cares much about what or who you're wearing. Well, they do look at your shoes!
The culture is: Unlike anywhere else in the world! Italians put so much passion into everything they do: fashion, wine, food, art, cars, and I believe that is why Italian craftsmanship is such a strong and real quality. It is part of what makes Italy one of the most charming countries in the world.
The people are . . . Passionate, friendly, and proud of their heritage. It's almost impossible to be in Tuscany in the summertime and not see a traditional festival or celebration of some kind.
Favorite souvenir you've brought home: My collection! It's not quite a souvenir, however it's something I've brought back to the U.S. with the hope that women will love and embrace it.
Favorite memory: The head of our production team also owns a beautiful villa in the countryside, about half way between Florence and Sienna called Podere Scopiccolo (above, right). He and his wife invited my sister and me to stay there on one trip and it was heaven!
When I go, I always pack too many: Shoes! But can you ever really have enough?
Shop Marion's Italian must-haves below: