Walk The Mile
Seoul
Fashion insider Jene Park's personal style is uptown girl meets downtown edge—which works perfectly in Asia's booming city.
"Seoul never sleeps. Old, new, rich, poor, tradition, all commingling," Jene Park explains. Park began her life in Seoul and weaves it into her current role as creative director of LA-based Thomas Wylde, visiting three to four times a year. Aside from seeing her family in Pusan, South Korea, Park produces much of the brand's line in Seoul.
"The artisans in Seoul have a special hand, they create flawless products," she explains. "I buy all the luxury materials from Italy and France and have the garments handcrafted one-by-one in Seoul."
"It's one of the most important cosmopolitain cities in Asia, mixing old and new," she adds. "I can relate to that, as my design philosophy emphasizes tradition and heritage, but infused with a modern, edgy, rock'n'roll vibe." Discover Park's must-visit spots and how she packs for her frequent work-meets-play trips.
I usually travel with: My daughters—I want to teach them about their heritage— and I also go with my designers to oversee production of Thomas Wylde ready-to-wear.
My Seoul uniform consists of: Lots of leather and fur, or cashmere and fur for winter. I have a Thomas Wylde studded sleeve cashmere-blend fur coat that I'm never without in the winter. In the summer, I wear ruffled cotton shorts, lyocell T-shirts, bi-stretch ponte jackets and dresses, which is comfortable and has the added bonus—no need to iron! For evening, I wear body-con leather dresses or cocktail dresses with a tailored jacket.
Four words to describe Seoul style: High fashion. Heritage. Energy.
Compared to mine: I fit right in. Seoul's style is very much what I believe in. High fashion is all about quality. The most important part of my design is the integrity, quality of the product. From material, to hardware, to construction, to proportion.
My personal style is uptown girl meets downtown edge. I enjoy trying different things—I can do my uniform of a T-shirt and jeans for work, and change into an impeccable tailored evening gown for events. But I always need a detail that stands out, like amazing accessories.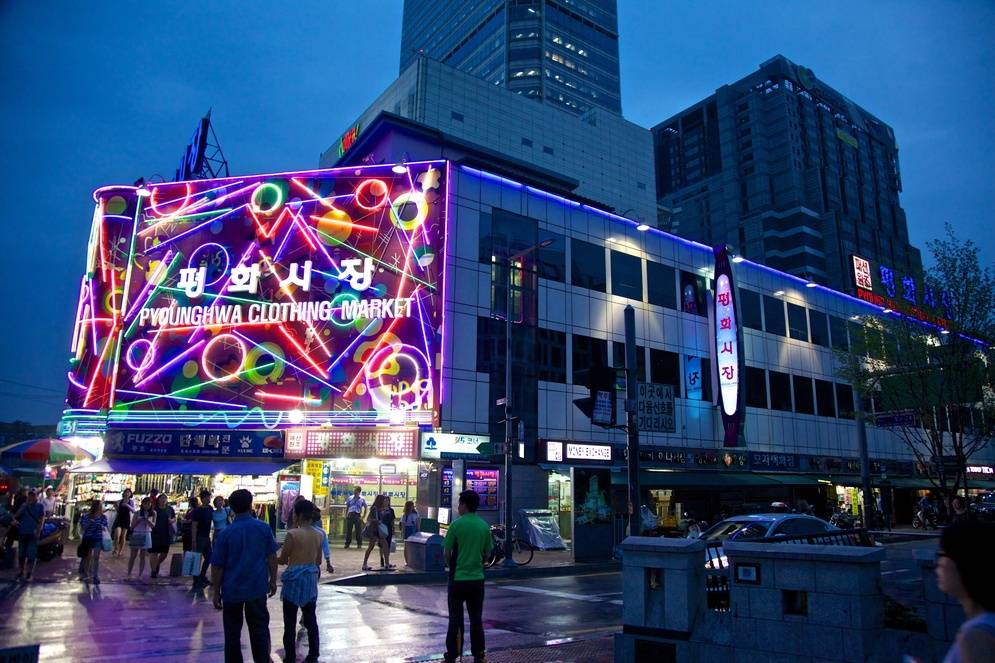 Seoul has this 24-hour market that you won't find anywhere else in the world, full of emerging designers. Every time I go, I buy T-shirts for my daughters.
Jene Park
My hidden fashion spot: Seoul has this marketplace that you won't find anywhere else in the world, Dongdaemun Night Market (above), full of emerging Korean designers. It's open 24 hours. Every time I go, I buy cool T-shirts for my daughters.
When I go, I always pack too many: Shoes. I have a uniform of clothes that I wear, but each outfit is completed by a distinctive shoe—but I always end up wearing flats. Seoul is very much like NYC; it's a walking city, so I just end up wearing comfortable shoes.
No matter where I'm traveling, I always bring: Two stuffed animals—one from each of my daughters. For Giselle, it's a stuffed dragon; Amelia, a dog. They were their favorites when they were young, so I feel like my daughters are with me when I see them. They're my lucky charms.
Shop Jene's Seoul must-haves, below: