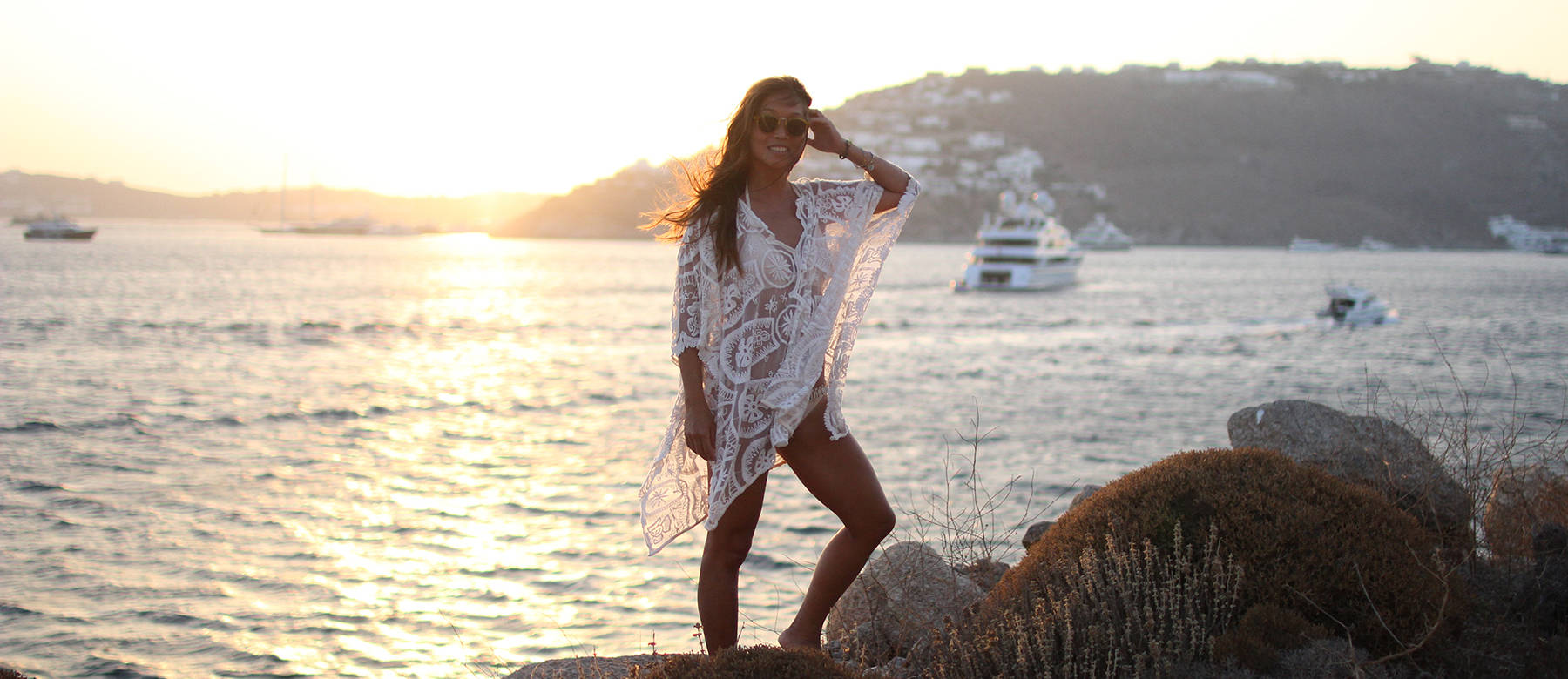 Walk The Mile
Mykonos
Fashion influencer Grace Chang takes us on one of her many (many) international trips.
Grace Chang is, above all, a visual person. She worked in design for over a decade, resulting in some of Hollywood's hottest movie posters (English Patient, I Shot Andy Warhol, Men in Black, etc.), then headed to the digital space, helped to launch three social-networking sites, THEN hit reset and turned to fashion design.
She interned (she knows how to pay her dues) with various New York fashion houses, launched her own luxury cashmere line, Ivory Row, and is currently the creative force behind Mama is Haute. The social influencer travels the world over (so much so that she has to break up her destinations into "U.S.," "International A-L," and "International M-Z"), documenting her visits with gorgeous photography and what looks like completely effortless style.
Here, she takes us along as she heads to Mykonos, Greece (along with her 11 other friends). Read on to hear why she had such an entourage, her favorite memories, and what she packed for the exotic location.
My travel partners: I went with 11 of my friends last August. We are global bunch, we are scattered all over the world including New York, Nigeria, and London. We meet at least once a year in a exotic location and this time was Greece.

The first thing I did when I arrived: I usually unpack quickly and hang what needs to be hung, lay out shoes and sunglasses. I changed into my bikini immediately in Mykonos and took a dip in the pool. I have a habit of packing a pair of bikini in my purse just in case.
My Mykonos uniform consisted of: Bikinis, cover ups, sunnies, and denim cut-offs. I was comfortable in shorts since the main transportation in Mykonos was ATV. We drove it to buy greek sandals in town, lunch at the beach clubs, and to watch the sunset.
The culture is… To be honest, I was little scared. In my mind, I was picturing Fort Lauderdale during Spring Break. Basically, electronic music blasting with people intoxicated way beyond a good judgement level. But Mykonos was different. It was much more chill and sexy in a really good way. First of all, Greeks are blessed with super good genes. They are the sons and daughters of Olympus after all. Chiseled faces and fit bodies. I can describe it as Burning Man meets chic beach clubs.
I lived in bikinis and cover-ups. You can get away with what you are wearing all day by just throwing some gold jewelry and nude espadrilles at night.
Grace Chang
Favorite souvenir:
Greek
sandals
with pom-poms. I brought back five pair. Two for me and three for family and friends. I also brought back gauzy
cover ups
from the shop inside of my favorite beach club,
Skorpios
.
Favorite memory: Dancing with my friends as the sun was setting with at Skorpios. Everybody turned golden from the sun. Everybody was happy and smiling moving to the music.
I always pack too many: Fancy silk dresses that I never end up wearing and gets ruined with the sun and ocean. I live in bikinis and cover ups. You can get away with what you are wearing all day by just throwing some gold jewelry and nude espadrilles at night.