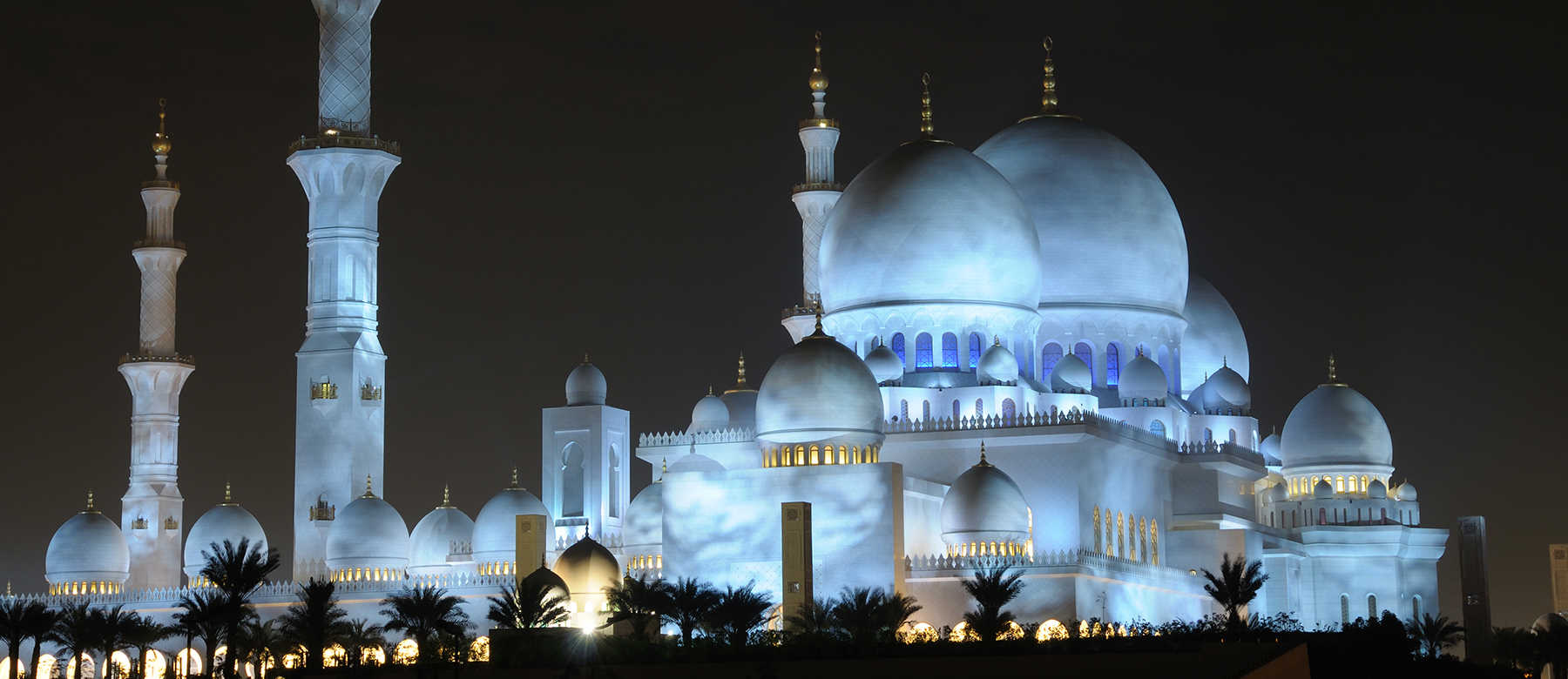 Walk The Mile
Dubai and Abu Dhabi
Engineer-turned-fashion-designer Abeer Al Otaiba loves the contrast her favorite cities within the Emirates offer.
When your second home is as diverse as the United Arab Emirates, it's difficult to choose just one Mile, which is why SemSem founder Abeer Al Otaiba chose two: Dubai for its 24/7 pace and Abu Dhabi for its serene island aesthetic. While Abeer currently resides in Washington, D.C., with her husband, Yousef, the Ambassador of the United Arab Emirates to the United States of America, she was born in Alexandria, Egypt, and moved to United Arab Emirates shortly after, returning multiple times a year.
In fact, the area is partially what inspired her new clothing line for mothers and daughters. After years as a civil engineer, Abeer turned to fashion as a creative outlet, but also a philanthropic one. Each season, she devotes a portion of her proceeds to a charity that empowers women and children. For her kick-off collection, Abeer has chosen the Association for the Development & Enhancement of Women (ADEW), specifically Girls' Dreams Program and the House of Eve Shelter for Abused Women. Here, she explains how the two cities inspire her every time she returns.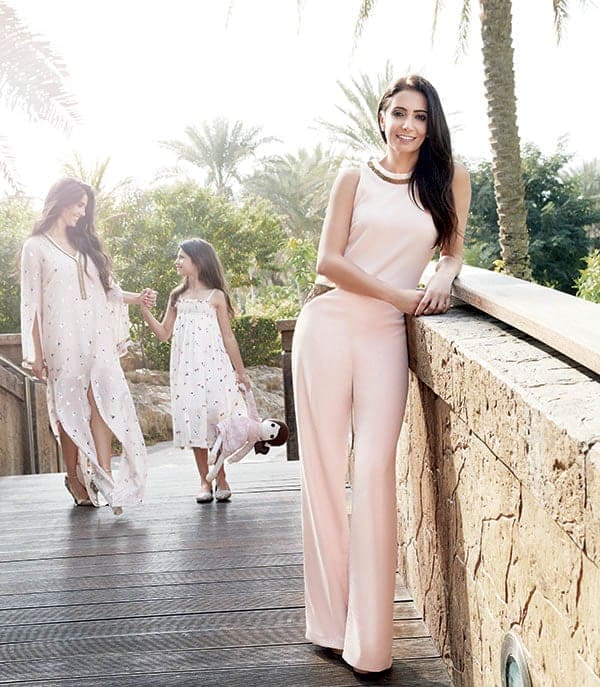 I time my visits to: The annual Formula 1 Grand Prix. I try to return at least twice a year, in the spring and fall when the weather is incredible! I usually schedule my fall visit around the F1 race, which takes place along the marina on Yas Island in Abu Dhabi. It is one of the most exciting and fun filled sporting events in the region.
The first thing I do when I arrive: It's a 14-hour nonstop flight from Washington, so I save the unpacking for later and head straight to the beach. A walk on the sand, fresh air and a cup of Moroccan mint tea helps me quickly overcome any jet lag.

My Emirates look consists of: The Emirates are where the sea and the desert come together. My Abu Dhabi look reflects the chill and laid-back atmosphere of the beach city: casual, relaxed and a touch boho-chic. Flowy long skirts and dresses, shorts, Kaftans and flats are all staples in my Abu Dhabi wardrobe, whether I'm taking my kids to Ferrari World or heading out to dinner at Cipriani's.
Dubai is a trendy, fast-paced cosmopolitan city. My look there is more fashion forward: a cutout jumpsuit or a cocktail dress, heels, and bold accessories for a night out.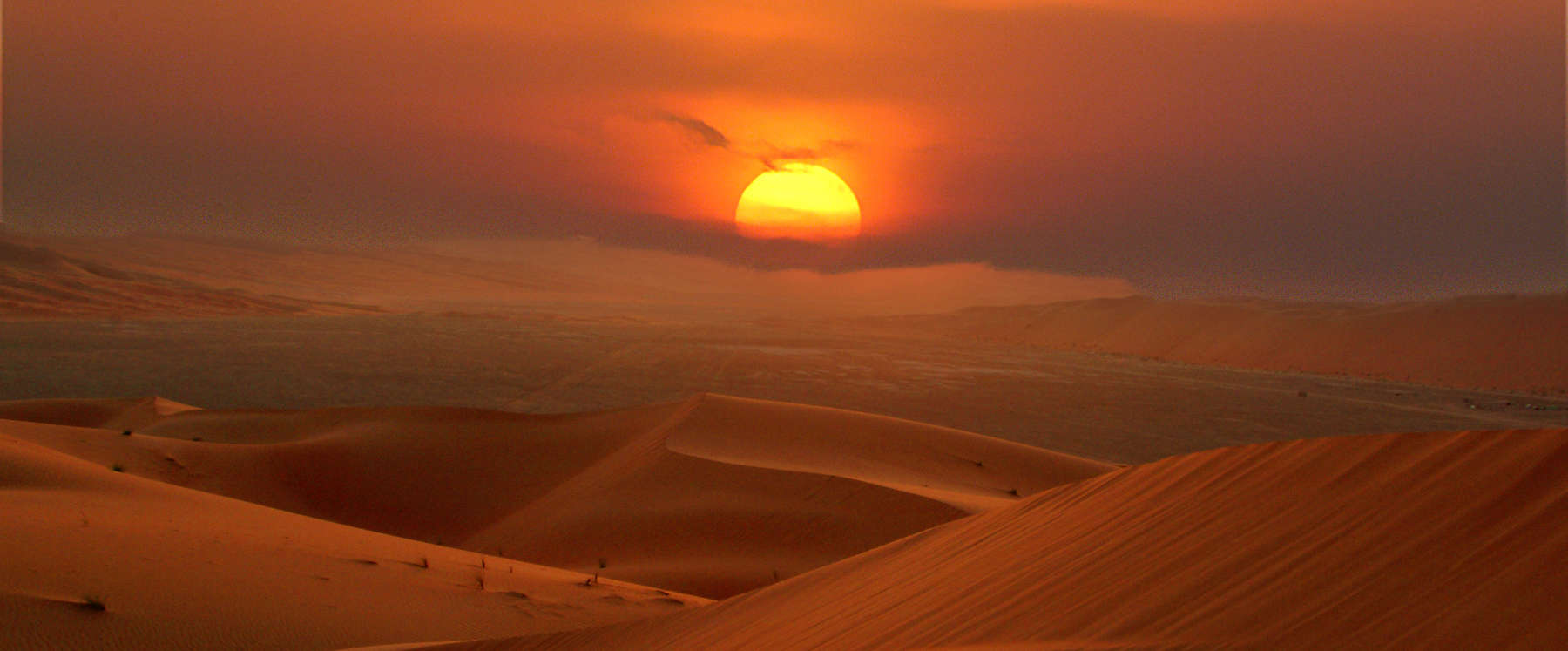 My favorite hidden spot: Qasr Al Sarab resort, located deep within the desert. The two hour drive from Abu Dhabi begins with endless dunes of gold sand that slowly transforms into an incredible shade of dusty pink. And just when you think there can't possibly be anything else to see you arrive to a resort that literally looks like a series of exquisite sand castles. The resort amenities are second to none, but it is the uninterrupted landscape, dune bashing and sand boarding that it make it truly awe-inspiring.
When I go, I always pack too many: Swimsuits and cover-ups. I was born in Alexandria, Egypt. We take the beach seriously. The beaches in Abu Dhabi and Dubai are home to some of the most incredible water sports from sailing, surfing, and paddle boarding to water skiing. I love being on the water!
No matter where I'm traveling, I always bring my: Workout gear. I do kickboxing and yoga wherever I go.
The Sem Sem pieces that works best in the Emirates: In Abu Dhabi, I love to wear my long sleeve Maryam pleated top and matching pants. My Jamila embroidered kaftan is another favorite that easily takes me from day to night. In Dubai, my Farah and Layla embroidered jumpsuits or the Lotus dress are essentials for Dubai's nonstop energy.
Shop Abeer's Emirates must-haves below: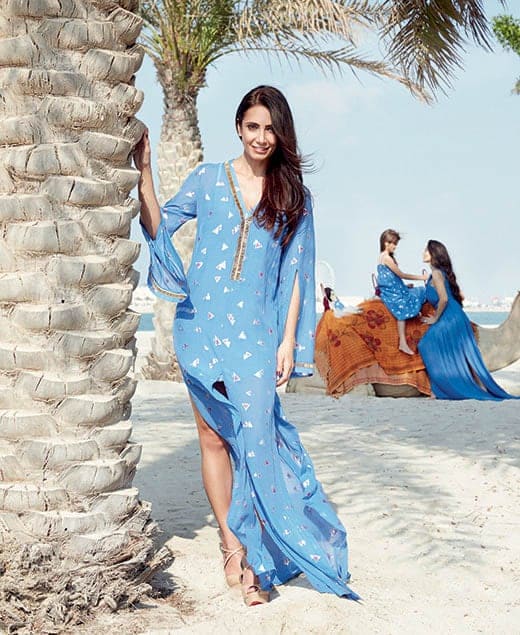 Portraits courtesy of Harper's Bazaar Arabia